In early November 2016, JDB or Jiaduobao (加多宝), one of China's leading RTD herbal tea companies, refuted allegations that it was reducing output, stopping production, lowering headcount and facing cash flow problems.
Two new factories in China put into operations
All these were dismissed by the company as speculations. According to JDB, it ceased to cooperate with Huiyuan, its contract bottler, as its own factories in Xiantao and Hangzhou (Guanya Beverage) have been put into production.
Here is a list of JDB's factories in China with the year of completion. The data comes from the JBD website.
• 广东加多宝饮料食品有限公司(1998年)
• 浙江加多宝饮料有限公司(2005年)
• 福建加多宝饮料有限公司(2007年)
• 加多宝(中国)饮料有限公司(2008年)
• 昆仑山矿泉水有限公司(2009年)
• 武汉加多宝饮料有限公司(2009年)
• 杭州加多宝饮料有限公司 (2010年)
• 清远加多宝草本植物科技有限公司(2011年)
• 清远加多宝饮料有限公司(2014年)
• 四川加多宝饮料有限公司(2014年)
• 仙桃加多宝饮料有限公司(2015年)
• 杭州冠亚饮料有限公司(在建)<- completed

Malaysia factory comes on line
The herbal drink company also stated in a press statement on 1 November 2016 that its new factory in Malaysia has been put into production.
2.关于与汇源的合作,加多宝湖北仙桃、杭州冠亚等自有瓶装工厂已经建成投产,自有工厂完全能保证市场的正常供应,今年瓶装加多宝取得了很大增长,去年与汇源的合同到期后,"借兵打仗"的日子结束了。还可以告诉大家,加多宝在马来西亚建厂投产了,凉茶国际化步伐进一步加快。
The press statement claims the Malaysian factory has been put into operation and this pave the way for the acceleration of the internationalisation of herbal drink.
News about Malaysia factory first surfaced in April 2016
In April 2016, news first appeared mentioning the 'newly operation' of JDB's Malaysia factory as reported by Beijing Times (京华时报) citing JDB Party Committee Secretary Pang Zhenguo (庞振国). It was also claimed to be the company's first overseas plant. According to Pang, overseas contributed around 10% of JDB total sales.
Is there really a JDB factory in Malaysia?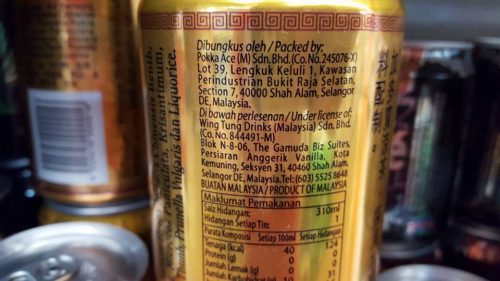 The JDB can in Malaysia clearly states it is manufactured by Pokka Ace (M) Sdn Bhd in Shah Alam, Selangor under license of Wing Tung Drinks (Malaysia) Sdn Bhd. If there is a factory in Malaysia, surely, this JDB herbal tea should already be made by the new plant.
Calls to Wing Tung Drinks (Malaysia) went unanswered. In April 2016, the author contacted SOCMA Trading (M) Sdn Bhd to verify about the existence of the plant and was told the information could be found on the can, which was then still showing Pokka Ace as the manufacturer. SOCMA Trading is in charge of distributing JDB in the country.
A call to Pokka Ace (M) in early November 2016 has confirmed there is no such 'JDB factory' in Malaysia. Also, 'no growth' was the word used to describe the performance of JDB in the country. The key reason was the use of one product in 325ml can, which has not helped with the expansion of the consumer base. Pokka Ace (M) has been the local producer of JDB for a number of years.
Data does not suggest there is a JDB factory in Malaysia
The evidence gathered so far has failed to establish the fact that there is a JDB factory in Malaysia. Therefore, only JDB knows whether what was told to the public is true.