GCH Retail (Malaysia) Sdn Bhd, the operator of Giant supermarket and hypermarket, has unveiled an animated character known as Kak G. Kak G or "elder sister G" is a typical Malay housewife who is devoted to her family. She has a caring husband and three young lovely children including a toddler. It is not know if Kak G has a full-time job but she certainly loves Korean drama.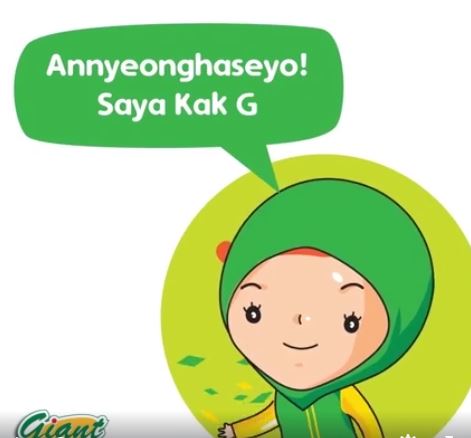 Kak G endorses Giant private label
Kak G is a smart shopper. She chooses Giant private label products for her household needs so that she can save money and still go on holidays with her family.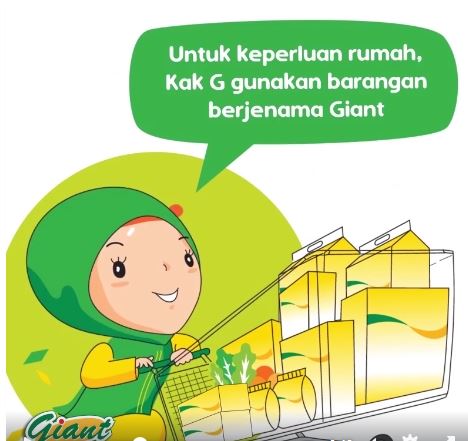 Kak G uses Giant private label for her household needs
Not only does she recommend Giant private label for its good quality and low price, she also demonstrates how to use them. On the Giant Facebook page, she shares recipes and household tips to make shopper's life easier.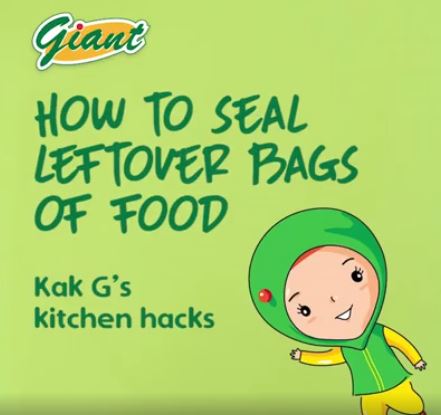 Introducing Kak G:
Tahu kah anda yang Giant mempunyai rangkaian produk yang berkualiti dengan harga berpatutan? Tak lain tak bukan, inilah duta produk-produk Giant yang akan memperkenalkannya kepada anda semua! Memperkenalkan, Kak G! #BersamaKakG #GiantMY

Posted by Giant Malaysia on 29hb Mac 2017
Kak G contest
Giant organised a contest to celebrate the appointment of Kak G as the private label brand endorser. The contest ended on 5 April 2017. The hashtag is #BersamaKakG
[#BersamaKakG Contest: 24th March 2017 – 5th April 2017]Kak G is with you whereever you go! In the comment below, upload a creative photo of your favourite Kak G cut outs with your favourite Giant products along with the hashtags #BersamaKakG and #GiantMY. 53 of the most creative entries will walk away with Giant gift vouchers! Find your Kak G cut-outs in our April mailers at your nearest Giant outlets and snap away! This contest is applicable on Facebook and Instagram. Grand Prize: RM 500 Giant Gift Vouchers2nd Prize: RM 300 Giant Gift Vouchers3rd Prize: RM 200 Giant Gift Vouchers50x Consolation Prizes: RM 50 Giant Gift VouchersTerms and conditions apply: https://goo.gl/d0Z1zR

Posted by Giant Malaysia on 23hb Mac 2017
Consumers were required to cut out the image of Kak G from the flyers and placed it near Giant private label products as creative as possible.
On-the-ground
The on-the-ground execution of the "Choice of Kak G and Family" campaign involves the placing of placards on products shelves featuring Giant private label products.
The example below carries the "refreshing" message but without specifically referring to the Giant private label bottled water. Consumers who are new to Kak G might not know what this is all about.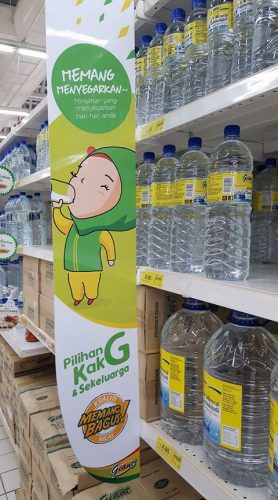 Images above and below were taken by the author at Giant Superstore Taman Connaught
Moreover, some of the placard is placed in the wrong shelf. The placard below shows Kak G holding a cup of tea/coffee with the message it is tasty and full of cream. Strangely, this placard is located in the canned seafood section.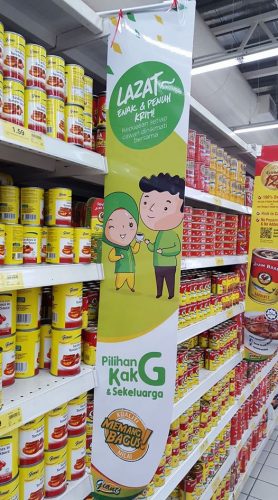 What Mini Me thinks
GCH Retail is taking a friendly-looking approach of using animated characters to promote its Giant private label range as opposed to Tesco's use of celebrities. As Kak G and her family is still new to shoppers, more campaigns need to be launched to make them the central figures for all things private label at Giant.
GCH Retail does have other private label products without the Giant brand name. It is not know if the "Choice of Kak G and family" campaign will involve promoting private label products under store brands like Feather Soft, Papa Alfredo and Vita Pet.