Malaysia Milk Sdn Bhd has finally introduced Marigold yoghurt in 1kg tub in the Malaysia market. A similar range is already available in neighboring Singapore, a country which features most of the latest innovative products from Malaysia Milk. Some of these new products would eventually make their way into Malaysia.
Natural tub yogurt for cooking
In Malaysia, natural tub yoghurt is used primarily for cooking. The new Marigold natural yoghurt in tub is going down the same route with the tagline "Natural goodness for wholesome cooking." The 0% fat natural yoghurt is free from sugar, zero cholesterol and comes with calcium.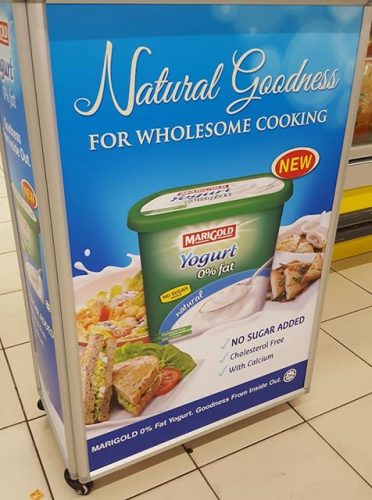 The fat content of coconut milk, mayonnaise and butter is listed out individually to drive home the message Marigold yogurt is the healthier-for-you alternative to these ingredients in cooking or in food preparation.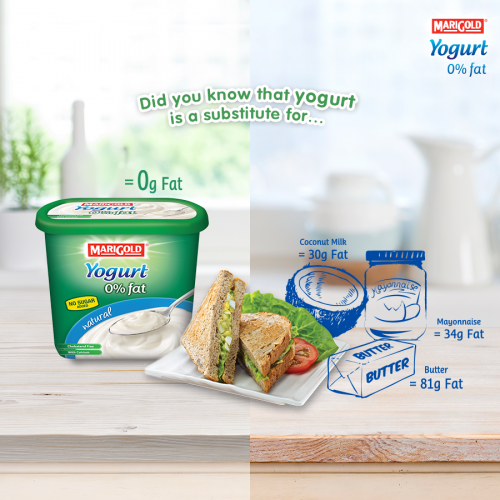 We have seen a similar approach adopted earlier by Nestle Malaysia where its Nestle Natural Set Yogurt, which contains only 57kcal and 1.6g of fat, was compared with santan (coconut milk), which comes with 28g of fat for each 100g serving. The message is clear. Consumers have the choice to switch to a healthier yoghurt that is low in fat for cooking or food preparation. See the post here.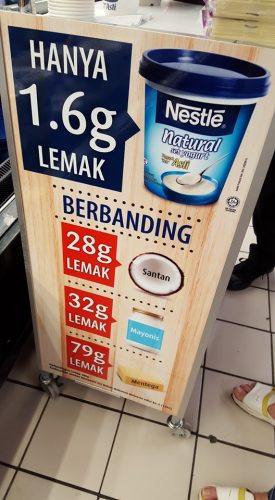 Here is how the new Marigold yoghurt is priced

Marigold Yoghurt 0% Fat 1kg is also available in strawberry.