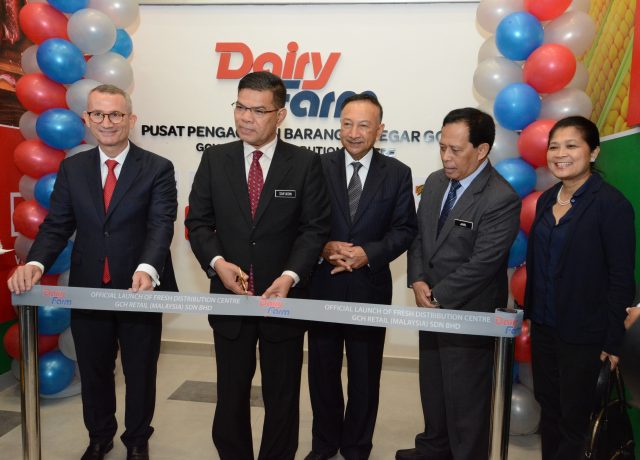 Country's Largest Supermarket & Hypermarket Distribution Centre Gives Consumers More Value for Their Ringgit
Gets Products to Market Faster, Fresher in Peninsula Malaysia for GIANT, COLD STORAGE, JASON'S FOOD HALL and MERCATO'S
Energy Efficient Operations, More Jobs, Enhances Local Economy, Reduces Wastage at Malaysia's Largest Hypermarket & Supermarket Chains
KAJANG, 18 SEPTEMBER 2018 – Malaysia's Largest Supermarket and Hypermarket Operator, GCH Retail (M) Sdn Bhd, is raising the standard of Freshness in consumer food expectations with the official opening of its RM116 million fresh distribution centre here today. GCH Retail operates GIANT, COLD STORAGE, JASON'S FOOD HALL and MERCATO'S stores, the only one with presence in every state in the country today.
"For over 70 years we have been committed to bringing innovative, value driven, fresh retail experiences to Malaysian consumers across the country. Today, we take that to a new level. This state of the art facility represents a part of our continuing financial commitment, and support at an organisational level to the idea of Freshness in everything we do." said GCH Retail (Malaysia) Sdn Bhd Managing Director, Pierre-Olivier Deplanck. "From getting the very best local products from farm to table; ensuring the highest standards of cleanliness at every point; and bringing consumers value in every purchase – the new distribution centre is the Gateway for Freshness for Malaysians."
The largest fresh produce and packed goods processing, packaging and distribution centre of its kind in Malaysia, the fresh distribution centre is part of GCH Retail's continuous commitment to ensuring that Malaysian consumers at GIANT, Cold Storage, Jason's Food Hall, and Mercato's have only the freshest products with the best value for their Ringgit. It focuses on energy efficient operations, rainwater harvesting, heat recovery technology, integrated and automated processes, temperature-controlled environments, and improved handling and logistics processes to improve how GCH Retail brings Malaysians the freshest food and fresh products in the country.
"We are also excited to be able to create more than 200 jobs directly in the warehousing and food processing sectors at this facility. This includes product experts and buyers, quality control professionals and a distribution team, all with the shared focus of ensuring that we bring the best products that we can, as fresh as we can, to customers. We also support more job opportunities indirectly through partnerships with local suppliers, logistics partners and vendors, allowing to actively enhance the economy of the surrounding areas almost immediately," added Deplanck.
Located in Kajang, the facility took 12 months to build and occupies 25,000 square metres of land, with a built-up area of 10,950 square metres. Dedicated to products which fall under the fresh category, the facility procures and distributes items such as fresh fruits, vegetables, meats and seafood to store locations nationwide. The new distribution centre is more than three times the size of the current GCH operation in Balakong, making it the largest and most innovative fresh distribution centre dedicated to a single retailer in Malaysia.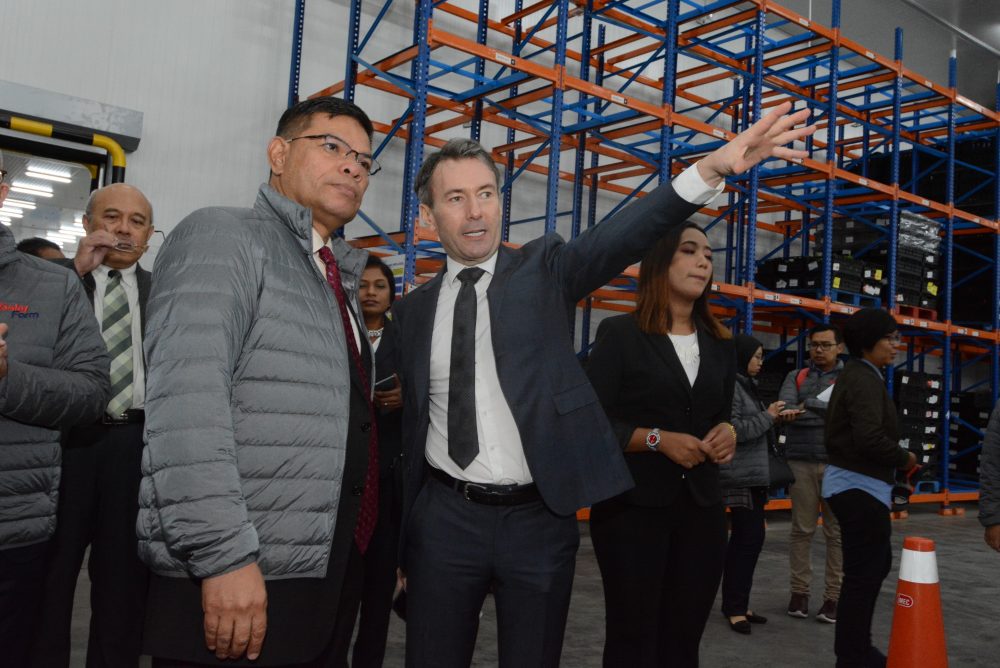 "I would like to commend GCH Retail on their commitment to provide the nation greater selections for quality products whilst still focusing on providing the best value to Malaysians. With their newest facility, they are narrowing the gap between the field and stores, reaching more local producers and ensuring the freshness of produce around the country, all while providing more job opportunities to the local communities, " said YB. Dato' Saifuddin Nasution Bin Ismail, Domestic Trade and Consumer Affairs Minister.
The Heart of Malaysia's Cold Chain
The distribution centre (DC) is the result of GCH Retail's insight into the process that brings fresh produce from across the country to Malaysians every day. This labour intensive, and time sensitive process includes picking, packing and handling of a large number of fruits, vegetables, and fresh meats – every step influencing the quality of the produce. Temperature controlled facilities ensure that the freshness of produce from over 200 vendors stored at the distribution centre are constantly maintained, while the digitally enabled infrastructure of the centre, ensures round the clock monitoring for optimum efficiency.
"We operate one of the largest real time, daily supply chain operations of fresh produce in the country. This means we assume the responsibility when it comes to preserving and enhancing the quality of food that we are offering millions of Malaysians. This distribution centre is a key part of that solution as it allows us to monitor, maintain and control the temperature our fresh produce the moment it arrives at our DC and until it reaches our stores. With improved distribution conditions and enhanced processes, we hope to offer the nation even greater quality in freshness, "explained Deplanck.
The Fight Against Food Waste
Being the Gateway for Freshness is more than just about helping consumers eat better – it's also about ensuring as little food as possible is wasted.
One of the biggest national concerns, food surplus from inefficient supply chains is a challenge for supermarket and hypermarket operators alike, with 45% of all solid waste in the country being edible food waste. With up to 3,000 tonnes of food wasted each day, food surplus is also affecting the country's economy, amounting into millions of Ringgit going into landfills and waste disposal charges – while denying Malaysians in need of much needed food.
"We have been working on solutions to this problem for several years now as it is something that concerns us deeply. One of the early approaches we used was to work with The Lost Food Project through our stores in selected location. With the launch of our newest facility, we are expanding this partnership – which first began in 2016 exponentially in the hope that it is able to help even more people while further reducing any wastage of food at our facilities," said Deplanck.
GCH Retail has established processes to control the age, appearance and freshness of its in-store products. When products are kept beyond this period, they are then shared with The Lost Food Project to be re-distributed to those in need. These charities include homes for underprivileged children, soup kitchens for the poor and homeless, as well as those with special needs.
The launch of the fresh distribution centre (DC) is part of GCH Retail's on-going commitment to providing Malaysian's retail experiences that work for them. This includes reviewing and renewing the way supermarket and hypermarket shopping experiences are brought into communities, and how these then support the Malaysians around them.
About GCH Retail (Malaysia) Sdn Bhd
GCH Retail (Malaysia) Sdn. Bhd., (GCH) a subsidiary of Dairy Farm International, is the operator of Giant hypermarkets and supermarkets chain; Cold Storage, Mercato and Jasons Food Hall premium grocery stores. Keeping abreast of latest market trends, GCH Retail continues to deliver on modern retail experiences and avails Malaysian customers to a wide array of products and produce, including quality value selections as well as premium and exclusive offerings. GCH Retail's latest industry accolade includes being Retail Asia-Pacific's Top 500 Gold Winner as Malaysia's Number 1 Retailer. Operating stores across Peninsular Malaysia and in Sabah & Sarawak, GCH Retail retains a strong foothold in the local retail industry and continues to maintain a strong leadership position.
(All information is correct as at 8 February 2018)